Dr. Pillay's new book will help you create a new, fun, more playful destiny and unlock your brain's inner potential.

Daniel G. Amen, M.D.

The Brain Warrior's Way

This book not only gives you license to step off the hamster wheel of focus, focus, focus, but it will show you how to strategically and productively do so.

JJ Virgin

JJ Virgin's Sugar Impact Diet

This brilliant book shows how to manipulate your brain to alternate between intense concentration and deliberate mind-wandering.

Mark Robert Waldman

How God Changes Your Brain
To finish tasks and achieve goals, most people believe that more focus is the solution. We rely on to-do lists, calendar reminders, noise-blocking headphones, and sometimes medication to help us concentrate—even though these tactics often fail to substantially improve productivity.
Drawing on the latest brain research, compelling stories from his psychological practice, and colorful examples of counterintuitive success from sports, business, education, and the arts, neuroscientist Srini Pillay, M.D., challenges traditional ideas about productivity, revealing the lasting, positive benefits of adding deliberate and regular unfocus to your repertoire. A fascinating tour through brain wavelengths and rhythm, mindsets, and mental relaxation, Tinker Dabble Doodle Try demonstrates how specific kinds of planned unfocus stimulate cognitive calmness, jumpstart productivity, enhance innovation, inspire creativity, improve long-term memory, and, of course, help you stay on target.
Tinkering with ideas and with things releases your mind to wander from a state of stuckness into a possibility frame of mind, triggering neural connections and new insights.
Dabbling in a new endeavor—whether a hobby or fantasy—disrupts your habitual and reactive thinking, helping you find new solutions to old problems.
Doodling can help you tap into another brain frequency to remove obstacles and create opportunities and inspiration.
With techniques for training the brain to unfocus, concepts for scheduling busy lives, and ideas for controlling this new cognitive-toggling capability, Tinker Dabble Doodle Try will change how you think about daydreaming, relaxing, leaving work unfinished, and even multitasking. What you'll discover is a greater freedom, a deeper intelligence, and a more profound joy in your life.

A must-read for anyone determined to be inspiring, reflective and dynamic
Lynda Gratton, professor of management practice, London Business School
Dr. Srini Pillay
Dr. Srini Pillay is a Harvard trained psychiatrist and a world-renowned keynote speaker, lecturer, author, and consultant. He is known for combining "head and heart" (figuratively and literally) in an approach to personal development and goal mastery that blends science, spirituality, and horns-grabbing joie de vivre to combat the stresses faced by ambitious and high-achieving people in academia, business, and life.
A professor at Harvard Medical School, he is also an invited faculty member in the executive education programs at Harvard Business School and Duke Corporate Education. He received the "Books for a Better Life" award for his book, Life Unlocked: 7 Revolutionary Lessons to Overcome Fear and is the CEO of NeuroBusiness Group. He has been an expert guest for CNN, Fox, NPR, The New York Times, Washington Post, Huffington Post, Harvard Business School, Cosmopolitan, Elle, Forbes, Fortune, Business Insider and many other news outlets in a variety of media.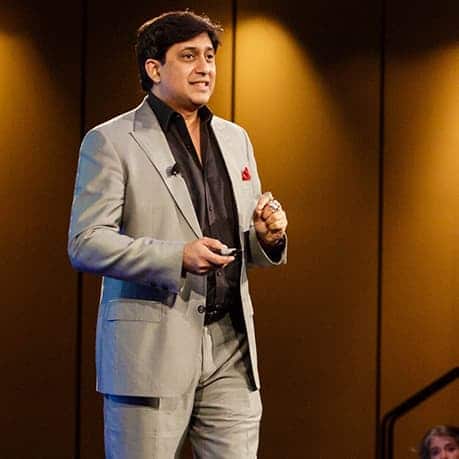 Join my email community for exclusive news, updates, and insights:
Nearly Done…
We need to confirm your email address. To complete your signup process please click the link in the email we just sent you.


Sign up for Srini's email list for
exclusive access to the latest news, info, and more:


Successfully Subscribed! Thank you!